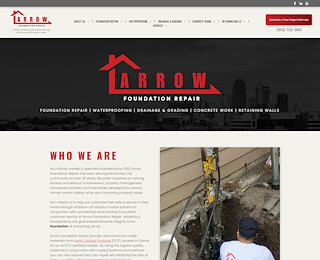 Is your leaky basement preventing you from maximizing your home space?
Tired of your musty and moldy basement?
Never worry about a wet, leaky basement again! Kansas City's most trusted basement waterproofing contractor is ready to rescue your drowning basement. Arrow Foundation Repair has been saving damp and flooded basements around Kansas City and the Midwest with over 20 years of quality service. Now, you can also enjoy a dry basement, free of mildew and mold with one call!
Our Basement Waterproofing Services
Arrow Foundation Repair will assess your entire basement dilemma and fix the problem right down at its roots. Here are the services we offer:
Exterior Wall Crack Sealing and Epoxy Crack Repair. This is a great way to make sure that no water leaks through your walls. Wall cracks not only prevent your basement from being dry, but it also weakens the structural integrity of your home's foundation. Filling all your basement wall cracks help in waterproofing by preventing water seepage through your walls, and because epoxy is waterproof and strong, this prevents further cracking and keeps your basement walls' durability.
 
Interior Drain Tile, Sump Pumps, and Battery Backup Sump Pumps. During heavy rains, storms, and snow meltdowns, no one knows what a dry basement is if you haven't got a waterproofing system. Interior drain tile, sump pumps, and battery backup sump pumps is an entire waterproofing system that works hand in hand in case your basement has more than a leakage issue. The interior drain tile directs the water from a perforated wall and into a sump pit. The sump pump in that sump pit will then automatically pump that water away from your home. And during extreme storms, those when you experience a power outage, the backup battery sump pump will make sure that your sump pump is continuously working to keep the heavy rains from flooding your already dry basement.
 
Leaky Basement Repair. After a substantial rain, you can never be sure if your basement is safe from mold, mildew, and water as water can leak through your basement wall, floors or other cracks and spaces to find its way into your home. This is frequently caused by flowing rainwater can build up and get stored, causing pressure on your home's foundation. This is most especially annoying because you never really know what is causing the leaks into your basement or where it is coming from. The great thing is that at Arrow Foundation Repair, we make sure to fix the problem right from the source.
 
Waterproofing Membrane is a technology designed to seamlessly cover your walls and floors through adhesion, to make sure no water gets through the inside of your home. It is commonly made of polyurethane that expands and contracts as the weather and temperature changes throughout the year. Thus, it is designed for long-term durability, providing a cost-effective answer to a quality waterproofing foundation, vertical walls and below-grade floors.
Arrow Foundation Repair offers basement waterproofing services at reasonable price points. We guarantee quality service and customer satisfaction to Kansas City homeowners. Stop stressing yourself with your leaky basement. Call us at 913-722-91011 or 866-797-7437 and let us discuss how to keep your basement dry all year round! You may also email us [email protected] 
basement waterproofing Kansas City