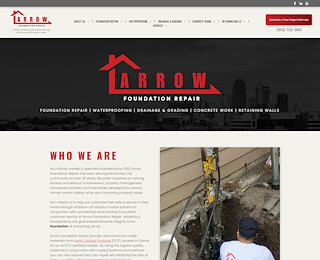 Waterproofing a basement is very systematic work to do. It requires so much understanding of the whole structure to make sure that it is done properly. There is only one company that stands out from the rest, and that is Arrow Foundation Repair.
Our company provides waterproofing and dry basement services in Kansas City. Since your basement is part of the foundation of your home, it plays a vital role in the strength of the house or building.
We offer free estimates to private homes as part of our loyalty to our valued customers. Since we have been up and running for more than 20 years, we have already developed trust with our customers. We continually enhance our way of servicing them; one of which is basement waterproofing. We are number one in Kansas City, MO.
Arrow Foundation and Basement Waterproofing
Giving you dry basement walls in Kansas City is our primary concern. Here are the ways on how we seal and prevent water leakage in your basement.
First, we check the area to know what the best technique is to prevent water leakage. Exterior wall crack sealing is sealing the wall from the outside. We look for the primary source of the crack, ensuring to tidy up before we apply the elastic membrane.
Anotone is the epoxy jack repair through injections. Epoxy injection repairs wall cracks. It can repair all cracks in your basement walls. This type of repair is best combined with other waterproofing techniques that will be discussed below to prevent water from getting into your basement.
Interior Drain is a technique that works well if adequately attached to sump pumps. This will prevent flooding. The two work hand in hand clearing out any water leakage in your basement.
We use basement waterproof membranes. This will seal your basement waterproofing techniques. We use this to stop the water from entering the walls or floors.
Combining all these techniques helps us secure your home from water, molds, and other bacteria to make sure they are not entering the house.
When to Call Us
Being the number one basement waterproof company in Kansas City, we believe in prevention rather than cure. Once you see the following call us immediately to conduct an inspection.
Cracked walls-when there are cracked walls, there is already an indication that something needs to be repaired.
Molds- once molds are building up, the place is not just for repair. It is becoming a threat to your health too. Let us know before it is too late.
Peeling paint- once the paint is peeling, there is already an indication of moisture piling up inside it.
Powdered Residue on the floor - If you see powdered residue on the floor, watch out for it. It won't harm you to call and consult with us on this kind of inquiry.
Keep you Basement Dry
The only way to keep your basement dry is when you have had your basement waterproofed by Arrow Foundation. Call us or leave an inquiry on our website and we will get in touch with you.
dry basement Kansas City