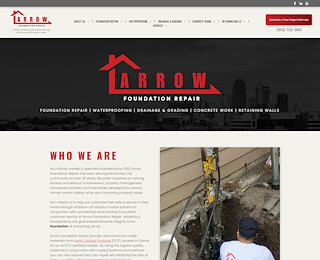 Choose Arrow Foundation Repair when searching for a trustworthy Kansas City foundation crack repair company. Since 1995, we have had a consistent A+ BBB rating. We won't let you down.
Building settlement issues are common in the Midwest. Arrow Foundation Repair has many options to choose from when looking for a solution to cracks or damage in your foundation. You will be able to rest easy knowing you've contacted the best foundation repair company in the industry. Reach out to us with any of the following concrete problems:
Cracked or sinking concrete slabs
Cracked veneer or stucco
Cracks in drywall around doors or windows
Sinking or tilting concrete stairs
Leaning or tilted chimney
Vertical cracks in concrete foundation walls
Can Foundation Cracks Be Repaired?
The question you should ask is whether the company you hire to repair your foundation cracks has the right equipment, experience, and skills to do the job correctly. Anyone can repair a foundation crack, but not every company can deliver lasting results that will provide value over the years. At Arrow Foundation Repair, we bring more experience to the table and offer a guarantee with our repair services. Contact us when comparing estimates. Our reputation throughout the Kansas City community is evidence of our commitment to excellence from start to finish. You can rely on us to expertly repair your concrete issue!
What is the Best Method of Repairing Foundation Cracks?
Different types of foundation cracks require different methods of repair, so it's important to hire an experienced team who can assess the situation at hand and make a professional recommendation on how to proceed in restoring your building's foundation for long-term results. For minor cracks, we often recommend interior and exterior wall epoxy crack sealing. For more significant damage, we may advise underpinning or another type of foundation repair. The first step in having repairs made is to call our team to schedule an inspection on-site so our pros can take a first-hand look at your foundation problem.
What Makes Arrow Foundation Repair the Best Company for my Foundation Repair?
Our commitment to delivering superior results has set us apart in the community as a company that cares about our customers. We won't apply a one-size-fits-all solution or band-aid approach to foundation cracks or other concrete issues. We'll thoroughly assess the situation, collaborate with our experts, and make repairs that will last for many years to come. We even guarantee our results! Treating customers like family is part of what makes our company an asset to the Midwest community. Trust Arrow Foundation Repair for high-quality, fair-priced, Kansas City foundation crack repair!
Where can I Find Affordable Foundation Crack Repair in Kansas City?
Give the Arrow Foundation Repair specialists a call to learn more about how we can help your home or business when you experience cracks or other concrete issues! Our team of professionals is ready to answer your questions or schedule an on-site inspection meeting at your location to provide additional information. The quicker you call about a foundation concern, the more likely we can make small, cost-effective repairs, and the less likely it will turn into a costly expenditure.